Todays Sunday shout out is for Steve Ward of Cloud Nine Recruitment Group, who is well worthy of recognition. Steve is one of a rare but growing breed of agency recruiters who actually understand social recruiting and social media, as more than a job posting avenue. I first connected with Steve through twitter, where he is omnipresent. It's understandable that Steve would be active in the social channels, given that his business Cloud Nine focuses on recruiting for the digital media sector, with an emphasis on social media. What is more interesting is the way in which Steve networks and contributes to the wider community he recruits from.
Long before immersing himself in social media, Ward had a long background in traditional agency recruiting, dating back to 1995, where he began his career with commercial recruiters Personnel Selection working up to a role as Branch Manager. He joined Recruitment Express as Commercial Business Development Manager in 1999, moving to Recruitment Cafe as Managing Director in 2002. After 3 years, Ward moved on to national recruitment business Select for a year, and the Randstad for 2 years as Business Manager. Ward set up Cloud Nine in 2009, and has not looked back.
The Cloud Nine Group is made up of a group of independent, single office recruiters, in which Wards Cloud Nine Recruitment provides the infrastructure. It's not surprising to see the business structured this way, given Wards genuinely collaborative approach to social media. It's a great example of the much over used adage: "TEAM: Together Everyone Achieves More." In this case it is true.
I have a theory that you can draw many parallels between a local pub and how personal social media networks work. I use the term network rather than community because I think this fits better the way in which we connect and group together on social networks. In any local pub, people group together in much the same way. In any pub there's a" go  to guy" for pretty much everything. When you need help, there's usually someone with some experience or expertise who are more than happy to help. When you want something doing, like electrical work, plumbing or decorating, then there's always a "go to guy" and if there's not, there's always a man who knows a man that they can refer you to. When you are active in social media channels, then you get the opportunity to become the "go to guy" for your specialist area, and this will always lead to business.
You get to become the guy by letting it be known what you do, without making it all you talk about. You help people when they need advice. For recruiters this can be as simple  as reviewing a CV, giving interview advice or passing on information. In any pub environment, you don't talk to only the people who could do business with you, you talk to everyone who wants a conversation, and you talk about multiple topics, and just enjoy being there. Social channels are much the same, particularly twitter.
Steve has become that go to guy for anything related to recruiting within the digital media and social space. Steve is a great example of how to balance on-line and off-line activities. He plays an active part in the social media community, and is often found at tweetups, meetups and other events. He is a regular host, speaker or contributor, and all this ground work has placed Cloud Nine at the center of the community.
It's not surprising given, Steve's network, that most of his business, and candidates come from recommendation or shares. I get jobs from the Cloud Nine Group account in my stream. The jobs are relevent to my stream because they are based in the UK and in a relevent sector for a group of my followers. I quite often share them, and I'm sure there are many others who do the same. We share relevent content from our friends that we trust. Any agency recruiters should take a look at Wards stream and activity, as a good example of how to earn a similar position in their respective niche.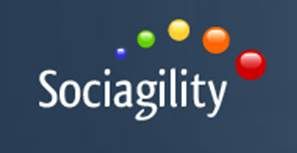 Last week Ward announced the launch of a new joint venture with social integration business Socialgility. Socialgility consult with businesses on how they can integrate social media and social culture in to all business practice. The new venture, Socialgility Talent addresses the need for recruiting in-house digital marketing roles. As more and more businesses are looking to integrate social, so the need to hire specialists is becoming increasingly important. People are at the heart of any social strategy, and Socialgility Talent provide the people. It's a promising proposition, and I wish Steve well in this.
Steve will be back at #trulondon again, running his ever popular track "The Social Agency." If you are an agency recruiter, then it's a must attend track. Ward is a great role model in how to achieve success through social, on and off-line. More importantly, he is a recruiter first and foremost, and this gives him a real understanding of #socialrecruiting, rather than social for socials sake.
Bill
LINKS