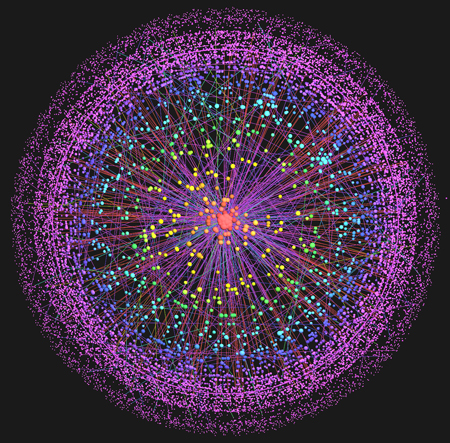 In the old days, wars were fought by feet on the ground, or who had the biggest stick. It was less about intelligence and more about brute force. Who could hit fastest, hardest, first. You only have to look at the German strategy of Blitzkrieg which overwhelmed France so quickly in the last world war. The enemy was easy to define. They wore different coloured uniforms for a start.
The real turning point came during the second world war, when the Allied forces set up the fantastic code breakers camp at Bletchley Park. The Polish navy managed to steal the Germans enigma machine, that enabled the Germans to communicate via an unbreakable code, and move with immunity. The code-breakers achieved the unachievable and cracked the code. From this time on the Allied forces knew what the Germans next move would be, and armed with this intelligence, accelerated the end of the war.
The modern-day war on terrorism is even more about intelligence, and less about force. The battle lines are blurred,the enemy is hard to spot without any uniform or badge to mark their allegiance. Battle lines are based on intelligence gathering. Listening and deciphering the clues that enable targets to be identified and understood.
Talent acquisition is often termed the " war for talent." In my last post I talked about the war for talent, or more specifically the war for other people's talent. Intelligence plays a key part here. Knowing who the talent is. Where they are located, and what they are thinking in terms of career. What people think about your employer brand is essential for knowing what you are getting right, and what you might have to change to attract the talent essential to your business.
I understand about the technology and the psychology behind talent networks and talent communities. The hard part is how to populate the community. Do you build and wait for them to come, push an advertising strategy through Facebook or another channel or go out and actively source talent in to your community?
I recently met with Neil Purcell who founded talent mapping business talentworks international. Neil has grown the business rapidly, with offices and teams in the U.K, China, Hong Kong, Italy, Romania, Holland, Israel and has recently opened in Miami, USA. talentworks offer 3 different services, Recruitment Research, Talent Pooling and Market Intelligence. 
The business is retained to locate and identify talent based on job role, division or market who are working for competitor employers, profile their background and make voice contact. This enables the team to get a clear understanding of who is where, what their career aspirations are, future plans and view of the hiring company. This enables the hiring organisation to know who will be receptive to an approach now, the market perception of their employer brand, and a whole lot more. TalentWorks provide the intelligence in the war for talent, globally or locally.
To mark the launch in Miami, we have been putting together "TalentWorks 2011″, (#TalentWorks), a free talent conference on November 16′th. We will be featuring 3 key-note speakers with expert knowledge in the talent arena, from communities to talent acquisition.
I'm delighted to announce that the opening address will be delivered by none other than Marvin Smith, Senior research Recruiter at the Bill and Melinda Gates foundation. Marvin is recognised as being one of the forefathers of the talent community concept, having been involved in building communities since 1986 for a range of organisations, principally Microsoft.
Highlights of Marvin's  bio reads:
Talent Community Evangelist.Microsoft.
"In this role, I identified current and future talent (employees) for Microsoft's Interactive Entertainment Business (IEB). This Talent Community Evangelist role is a hybrid role that is part program manager, part marketing, part research & competitive intelligence, part sourcing and part recruiting. Specifically, I find the target talent that is needed for our businesses and create opportunities for conversations with that audience. This workstream was a part of the pioneering talent community development pilot at Microsoft."
I will be confirming 2 other speakers of similar standing over the next few days. In addition to the key-notes, we will be hosting interactive discussion sessions to allow participants to discuss their individual issues and needs, followed by a networking party.If you are interested in attending, invites will be available from Monday, in the meantime, if you want to know more, leave your questions in the comments. This will be a great way to advance the talent intelligence conversation!
Hope to see you there,
Bill